Tile Remover
A Grand Rapids, MI based epoxy flooring company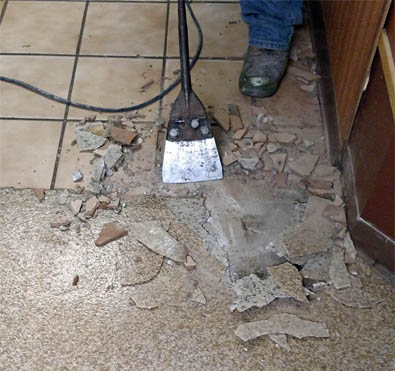 Hand Held Tile Remover
Floor tile removal is a difficult operation. Vanguard concrete coating has the equipment and experience to offer our customers safe and clean removal of ceramic floor tiles, Vinyl Composite Tile (VCT), Carpet, High Build coatings and resurfaces as well as grind off adhesive residue after removal.
Our specialized floor removal equipment reduces time of floor covering removal and floor preparation time by 90%. From hand held to walk behind all the way up to ride on we have the right sized equipment for your project. We also provide dust containment including use of air scrubbers for occupied Industrial and commercial buildings.
After an evaluation, we will go over the specifications of the projects and determine how much time the removal will take and give you the cost per square foot or if combined with an installation such as a decorative epoxy floor coating or concrete resurfacer. Removing old tile or VCT completely down to clean concrete allows you to inspect the concrete slab for any cracks or defects before the new installation begins.
If you need old, ugly, ceramic or porcelain tile, Saltillo or travertine, marble, VCT or glued down carpet we can leave your concrete in a like new condition.!
Service / Market Area:
For industrial and commercial flooring projects we work in Michigan cities such as Muskegon, Grand Haven, Norton Shores, Big Rapids, Cadillac, Reed City, Howell, Lansing, Jackson, Battle Creek, Kalamazoo, Hastings, Plainwell, Otsego, South Haven, Benton Harbor, St Joseph, Holland, Grand Haven, Grand Rapids, Wyoming, Kentwood, Grandville, Portage, Walker, Byron Center, Cascade Township, and Ada. For residential garage projects we generally only bid on work within 30 miles of Grand Rapids, MI.