Epoxy Floors Vary In Price & Quality
A Grand Rapids, MI based epoxy flooring company

Why should I pay for more for one epoxy floor system over another epoxy floor system?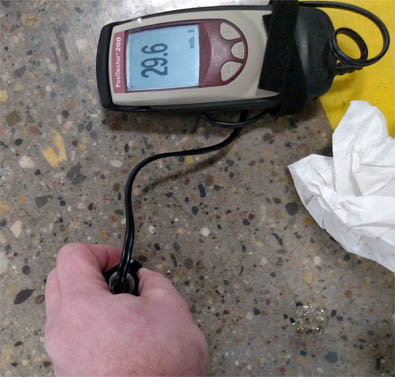 Coating Thickness Test
When it comes to durability there are for the most part little durability difference from one epoxy resin to another epoxy resin. There are additives such as ceramic, aluminum oxide, or silica sand that will add to the abrasion resistance and durability of an epoxy floor coating. Additives like fiberglass reinforcing may be added to that will increase flexural strength and thus the durability of the resinous flooring system this is found most commonly in chemical containment and chemical resistant coating systems.
The areas where one epoxy floor coating system is better than another epoxy floor systems is seen more often in chemical resistance, deterioration from Ultraviolet light, speed of catalyzation, and viscosity. Thickness is also an issue which is why we use a coating thickness machine.
A standard epoxy floor resin will hold up to common household chemicals and automotive fluids. A chemical resistant epoxy floor coating will cost typically 50% more but will hold better to regular exposure urine and bleach and is recommend for bathrooms, locker rooms, shower areas and kitchens. Novalac epoxies are the next step and are used most commonly in area subject to chemical attack in chemical containment areas, such as secondary containment and battery charging areas, as well as chemical manufacturing and processing facilities. This is not to say that while able to withstand exposure to a given chemical such as sulfuric acid, found most commonly in fork lift batteries, that there will prevent discoloration of the coating.
One of the weakness of resins such as epoxy is ultraviolet light. UV exposure to synthetic resins plastics and rubbers will cause at the minimum drying out of the resin lessening the flexibility of the polymer and may eventually result in cracking. The other side effect from UV exposure is in the form of yellowing or discoloration of the resin. These two issues can be seen with epoxy floor coatings as well. Generally the drying out of an epoxy resin on an interior application will take decades to become brittle enough to effect durability. In the case of UV stability the effects may be seen in a matter of months or years. Roughly 25% manufactures offer a interior UV stable epoxy floor coating. These typically come at a 20 to 50% premium over standard epoxies but may be worth the investment. UV discoloration happens most quickly under natural sunlight. Fluorescent lighting is second in it's ability to discolor epoxy coatings, followed by metal halide, and sodium vapor followed by incandescent light. Second to the light source is the amount of lighting and the distance of the light source is from the flooring system. High intensity low hung lights will more quickly discolor an epoxy floor than less intense higher hung light sources. After considering the lighting of the area to be epoxy coated the second is the level of traffic and abuse and the expected recoat cycle. If an area is to receive high fork lift traffic, exposure to steel wheel traffic and or steel shavings an lower cost epoxy floor coating may be a better option than a UV stable epoxy floor coating since the epoxy floor will likely be recoating in less than 5 years and any yellowing of the floor will be limited in this time period and then covered up with a new application of epoxy flooring hiding the unsightly yellowing. If on the other hand your epoxy floor coated area is a light traffic area or a showpiece area it may be worth the extra investment for a UV stable epoxy floor coating resin.
The second biggest factor to chemical resistance affecting the cost of an epoxy resin is the speed of catalyzation. When it comes to driving it is said that speed kills. In the world of resinous flooring, speed costs. Some manufactures offer the same resin in standard dry times of 8-12 hours also offer a fast cure version of the same product of as little as 4-6 hours. If you have a short installation window for you industrial coating where your time is more expensive than the additional money for a fast cure resin. It is important to note with the decreased catalyzation time and increased cost is likely to decrease UV stability as well.
The last of the major factor affecting the cost of an epoxy resin system is viscosity. There are some manufactures that offer low cost 100% solids that work well for most applications but in order to keep costs down they may contain fillers that create a much higher viscosity and limiting their ability to self level and thus smooth out rough or eroded concrete. In some cases it may require as much as twice the epoxy to smooth out the same surface due to the thinner viscosity epoxies ability to self level and the final appearance of the floor coating.
Service / Market Area:
For industrial and commercial flooring projects we work in Michigan cities such as Muskegon, Grand Haven, Norton Shores, Big Rapids, Cadillac, Reed City, Howell, Lansing, Jackson, Battle Creek, Kalamazoo, Hastings, Plainwell, Otsego, South Haven, Benton Harbor, St Joseph, Holland, Grand Haven, Grand Rapids, Wyoming, Kentwood, Grandville, Portage, Walker, Byron Center, Cascade Township, and Ada. For residential garage projects we generally only bid on work within 30 miles of Grand Rapids, MI.