Decorative Concrete Floors
A Grand Rapids, MI based epoxy flooring company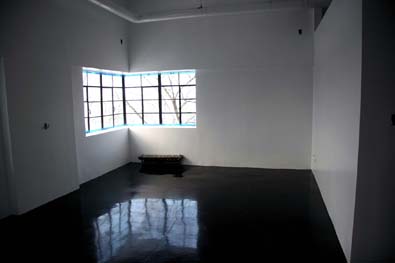 Black Acid Stained Floor
Color material is blended with the concrete mix to color the aggregate throughout. Many of the colorants are iron oxides and can create colors including blacks, yellows, and reds. Greens can be achieved using chromium, and ultramarine can be used to create variants of blue.
Stamping:
Patterns are impressed into wet concrete slabs or overlays to create textures or to provide the appearance of brick or stone.
Embedding:
Items can be embedded in the concrete for practical purposes (such as brass rails to serve as pot holders on a countertop) or aesthetic ones (such as decorating with shells or fossils).
Decorative Applications On Existing Concrete
Concrete Dyes:
Dyes are not chemically reactive with concrete, and their appearance is translucent. They can be organic or inorganic and diluted with either water or solvents. Stain colors are more intense if stain is applied soon after concrete has been placed. They can create bright colors not possible with stain, such as reds and yellows. Some dyes are UV-resistant, but those that aren't can be coated with UV-resistant sealers to make them colorfast.
Acid Staining:
Acid staining is not a dyeing or pigment-base coloring system, but a chemical reaction. A mixture of water, salts and acid is applied to the concrete surface and later neutralized by a basic solution of ammonia, TSP (trisodium phosphate) and/or water. This chemical reaction with the existing minerals in the concrete creates new colors on the concrete surface. Due to inconsistencies in the surface of concrete, acid staining creates a variegated or mottled appearance that is unique to each slab. The thickness of this color change ranges from 1/16th to 1/32nd of an inch. Exterior concrete surfaces may not color as well as interior surfaces because the environment has leached or percolated out the mineral content.
Chemicals commonly used in acid staining include Hydrochloric acid, Iron chloride and Sodium bicarbonate.
A few things that are important to keep in mind with acid-based stains, wide color variations are normal. Surfaces will have a mottled, variegated appearance, and these variations will be emphasized when the final coat of sealer is applied. With some acid stain colors, what you see in liquid form may not be what you get once the stain has reacted with the concrete surface. The stain may not reveal its true color until it has been allowed to remain on the concrete for several hours or longer. Always apply the stain to a small test area before covering the entire surface. Color effects will generally be more intense on new concrete than on older or weathered concrete. Even when treated with the same staining product in the same shade, no two pours of concrete will look alike due to factors such as the composition and age of the concrete, surface porosity, texture, and environmental conditions. It's this variability, rather than uniformity, that gives stained concrete its broad appeal and permits an infinite array of special effects.
Overlaying:
Concrete overlays date to the 1960s when chemical engineers from some of the larger, well known chemical companies began to experiment with acrylic paint resins as modifiers for cement and sand mixes. The result was a thin cementitious topping material that would adhere to concrete surfaces and provide a newly resurfaced coating to restore the worn surface. Concrete overlays lacked the long term performance characteristics of acrylic resins. Acrylic resins provided good UV resistance, but lacked long term water resistance and adhesion characteristics needed to provide a long term and permanent solution.
Polymer Cement Overlays:
Polymer cement overlays, consisting of a proprietary blend of Portland cements, various aggregates and proprietary hybrid polymer resins, were introduced over 20 years ago. The purpose of adding a hybrid polymer resin to the cement and aggregate is to greatly increase the performance characteristics and versatility of conventional cements, mortars and concrete materials. Unlike conventional cement and concrete mixes, polymer cement overlays can be applied thinly or thickly without fear of delamination or typical product failure. In addition, polymer cement overlays are much more resistant to damage from salt, petrochemicals, UV, harsh weather conditions and traffic wearing.
Originally intended for use as a thin surface restoration material for concrete substrates, polymer cement overlays were introduced into the architectural concrete and commercial flooring industries in the early 80s. Subsequently, its use in these industries has become standard. Polymer cement overlays are regarded as economical in providing long term, durable renovation without the need for costly and continuous repairs associated with deteriorating concrete surfaces.
Polymer Cement Applications:
Polymer cement overlays are used for interior and exterior applications ranging from:
Skim coat/broom finish concrete resurfacing – Restore and protect damaged, pitted, flaking and stained concrete back to the look of a new concrete surface.
Concrete regrading & leveling – Repair and level concrete surfaces that have settled.
Existing substrate redecorating and renovating – Alter the appearance of existing concrete or wood substrates through applying "thin stamped" or "thin stained" overlays, creating new textures, colors and designs. For use on commercial or resident pool deck, this frequently takes the form of "splatter textures" or "knockdowns," in which polymer cement is applied to the existing concrete substrate in a moderately textured finish (average of 1/8" thickness) in various patterns. Often, the texture is knocked down with a trowel to slightly modify the appearance and feel of the finished application.
Finishing Touches:
Products like decorative quartz and decorative flake provide an upscale image. Recommended for areas like restrooms and cafeterias decorative quartz combined with integrated coved base creates three dimensional stone appearance through its use of quartz aggregates and clear resins. The addition of decorative flakes give a terrazzo like appearance to our coatings and resurfacers. Our integrated logos create a real impact.
Service / Market Area:
For industrial and commercial flooring projects we work in Michigan cities such as Muskegon, Grand Haven, Norton Shores, Big Rapids, Cadillac, Reed City, Howell, Lansing, Jackson, Battle Creek, Kalamazoo, Hastings, Plainwell, Otsego, South Haven, Benton Harbor, St Joseph, Holland, Grand Haven, Grand Rapids, Wyoming, Kentwood, Grandville, Portage, Walker, Byron Center, Cascade Township, and Ada. For residential garage projects we generally only bid on work within 30 miles of Grand Rapids, MI.