About Vanguard Concrete Coating
A Grand Rapids, MI based epoxy flooring company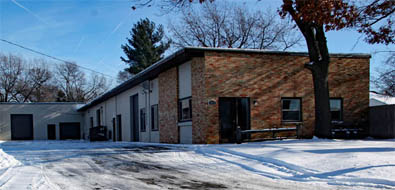 Vanguard Concrete Coating Building
Vanguard Concrete Coating is a locally owned family business that began in October of 2000. Over the last two decades Vanguard has installed over 10 million square feet of coatings, worked for hundreds of local Michigan business, and has trained, mentored and employed dozens of floor coating installers. Vanguard Concrete Coating is a certified installer for nearly every major coating manufacturer having installed product lines including Sherwin Williams, General Polymers, Tennant, Florock, Dur-A-Flex, PPG, Sika, BASF, Akzo Noble, Valspar, Bayer, Dupont, Key Resin, Euclid Chemical, Tnemec, and Carboline to name a few.
Vanguard Concrete Coating understands that your floors take more abuse than any other building component. We also know that the value of a floor coating goes beyond just restoring and protecting concrete. Coating floors improves company image, prevents accidents by brightening work areas and increasing slip resistance in wet and oil environments, raises employee moral, and demonstrates a corporate commitment to the highest workplace standards.
Working exclusively as an installer of high performance concrete coatings and chemical containment linings, the focus of all our people, products and equipment is on the coating needs of our commercial and residential customers. We have systems and solutions that truly make a difference.
At Vanguard we pride ourselves on constantly improving. Through reviewing, evaluation, and modifying our operations we provide our customers with long-term solutions to the most challenging installations. Our paints and coatings are designed to withstand corrosive chemical attacks, punishing impact, and continuous abrasion year after year. Our coating systems are designed to last because our reputation depends on it!
Service / Market Area:
For industrial and commercial flooring projects we work in Michigan cities such as Muskegon, Grand Haven, Norton Shores, Big Rapids, Cadillac, Reed City, Howell, Lansing, Jackson, Battle Creek, Kalamazoo, Hastings, Plainwell, Otsego, South Haven, Benton Harbor, St Joseph, Holland, Grand Haven, Grand Rapids, Wyoming, Kentwood, Grandville, Portage, Walker, Byron Center, Cascade Township, and Ada. For residential garage projects we generally only bid on work within 30 miles of Grand Rapids, MI.