About The Vanguard Concrete Coating Company
Vanguard Concrete Coating understands that your floors take more abuse than any other building component. We also know that the value of a floor coating goes beyond just restoring and protecting concrete. Coating floors improves company image, prevents accidents by brightening work areas and increasing slip resistance in wet and oil environments as well as raising employee moral and demonstrating a corporate commitment to the highest of workplace standards.
Working exclusively as an installer of high performance concrete coatings and chemical containment linings, the focus of all our people, products and equipment is on the coating needs of our commercial and residential customers." We have systems and solutions that truly make a difference.
At Vanguard we pride ourselves on constantly improving. Through reviewing, evaluation, and modifying our operations we provide our customers with long-term solutions to the most challenging installations. Our paints and coatings are designed to withstand corrosive chemical attacks, punishing impact, and continuous abrasion year after year. Our coating systems are designed to last as our reputation depends on it.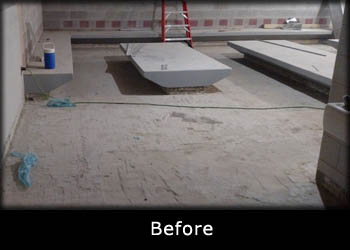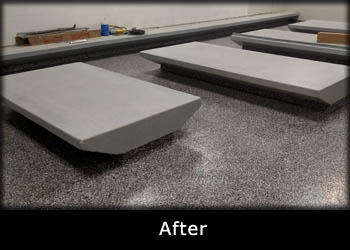 ---

HOME | SITE MAP | COAT CONCRETE | CONCRETE BASICS | PREP | CONCRETE POLISHING
RESINS | CONTRACTORS | RESIDENTIAL INFO | INDUSTRIAL PHOTOS | RESIDENTIAL PHOTOS




Vanguard Concrete Coating
3030 Hillcroft SW
Grand Rapids, Michigan 49548
Phone: 616-742-1540

Fax: 616-742-3793
Ian@vanguardconcretecoating.com
© Copyright 2009-15 All rights reserved by Vanguard Concrete Coating of Grand Rapids, MI. For residential epoxy coating of floors our service area includes the West Michigan cities of Grand Rapids, Muskegon, Holland, Zeeland, Grand Haven, Kalamazoo, and Portage and small cites in-between. For industrial & commercial floors we service a larger area including the greater Detroit & Ann Arbor area, Northern Michigan (including Traverse City, Cadillac, Big Rapids, Petoskey, Charlevoix, Grayling and Gaylord) Southwest Michigan (including St Joseph, Benton Harbor, South Haven,) Central Michigan (Including, Marshall, Battle Creek, Jackson, Lansing, Charlotte, Eaton Rapids, Grand Ledge, Saint John's, Ithaca, Owosso, and Mount Pleasant) MI Thumb Area (including Flint, Saginaw, Lapeer, Bay City, and Midland) as well as Northern Indiana.